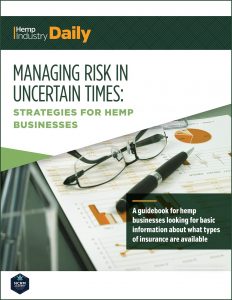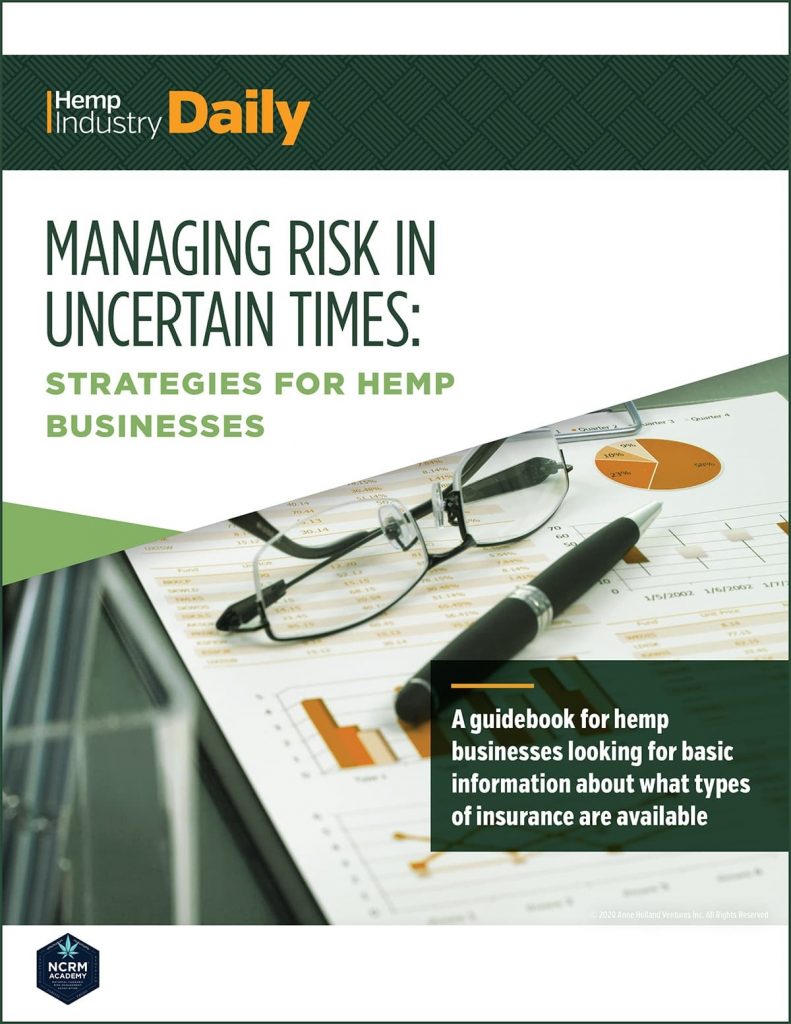 Hemp and CBD companies, like other agricultural commodities and consumer product goods industries, are liable for the products they put on store shelves and in consumers' hands.
Along with that comes the high level of risk associated with producing a new crop from as-yet unstable genetics, as an ingredient for products that are still widely unregulated.
Hemp and CBD companies risk paying thousands of dollars in legal expenses if they lack insurance to deal with problems connected to their products.
"My contention is, if you're putting a product in the public's hands, then you really should have product liability insurance, regardless of what the product is," said Brett Lipton, vice president of New York-based Castle Rock Capacity Insurance Agency.
Protecting workers through workers' compensation insurance is also mandatory in most states – an added risk many new businesses with employees may not realize.
That's why it's important for farmers and businesses to secure insurance and other provisions as risk mitigation. Depending on the type of business, hemp and CBD companies should consider buying policies for:
Crop insurance.
General liability insurance.
Product liability insurance.
Workers' compensation insurance.
New industry, high risk
As part of a newly legal industry, hemp and CBD businesses have been in a challenging position when it comes to securing business insurance like property and liability insurance.
Like banks, conventional insurance companies have been hesitant to jump into the hemp space due to confusion about the legality of the crop, despite repeated assurances through members of Congress that hemp is now a legal commodity and farmers and businesses in the industry should be treated as equals to any other businesses.
Further, an ongoing lack of regulatory clarity has caused uncertainty, causing hemp farmers and businesses to lose their property insurance, sometimes without notice.
"We had received …a letter from our insurance company saying that they weren't going to renew our policy because we grew hemp," said Taryn Marcus, co-owner of Sheepscot General Store and Farm, a farm and retailer in Whitefield, Maine that produced 3 acres of hemp in 2019.
"We, I guess naively just assumed since it was legal and we got our license from the state, we were all set."
Risky crop, risky business
Because hemp industry is a newly legal crop, it's considered high-risk for a number of reasons, from unstable genetics to the high learning curve for growing the crop and the potential for crops to quickly become illegal marijuana if they test above the 0.3% federally legal THC limit.
Hemp farmers lost thousands on their hemp crops in 2019 – some due to bad weather and inclement natural events like hailstorms, flooding and drought, and some after they harvested their crops and stored them incorrectly, causing combustion to engulf barns in flames.
But until recently, hemp farmers and businesses have not had access to federal crop insurance programs – and many didn't want to pay for private insurance.
Hemp farmers told Hemp Industry Daily that the availability of federal crop insurance legitimizes hemp as a row crop, like other agricultural commodities, and provides security for new and longtime farmers.
"It's a monumental step forward for the industry and a huge relief to so many farmers around the country," said Steven Turetsky, managing d